The conference will feature powerful key note speakers who will speak on various topics in line with the 2022 Research week theme ' Emerging Research and Technology for Sustainable Development in Society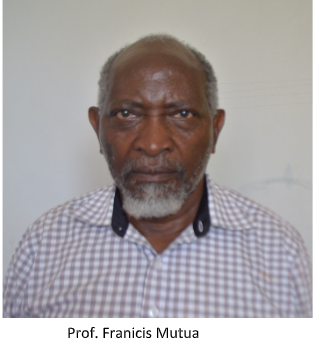 Prof. Franicis Mutua
Emeritus Professor of Meteorology
Department of Earth and Climate Sciences, University of Nairobi
Keynote Address: Water for Sustainable Development in Changing Environments
Brief bio
Francis Mutua is a emeritus professor of the University of Nairobi in the Department of Earth and Climate Sciences. He has worked with the university for more than 41 years at different academic positions. He has been External Examiner as well as supervisor/promoter for many Masters and PhD research work in many local, regional and international universities in the field of hydrology and hydraulics. In his academic career, Prof Mutua has published many articles in international journals and in book chapters. He has also won many academic awards.
Prof Mutua has done a wide range of consultancies in water resources management, climate change and audits/assessments of dam designs. He has worked with many international organizations such as the EU, FAO, the African Technology and Policy Studies Network, the Lake Victoria Environmental Management Project, the Nile River Basin Initiative, World Wildlife Fund, IUCN, UNESCO, UNDP, USAID, World Bank and the Government of Kenya.
Professor John Mack Rhodes University, South Africa
Keynote Address: Group 13-15 Coordinated Porphyrinoids as Photosensitizers for Photodynamic Anticancer and Antimicrobial Chemotherapy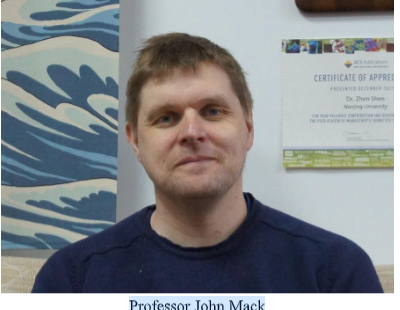 Brief bio
John Mack, born in Edinburgh, Scotland (1966), received his Bachelor's degree from the University of Aberdeen and his Doctor's degree from the University of Western Ontario under the direction of Professor Martin J. Stillman.  His graduate research focused on the MCD spectroscopy of phthalocyanine anion radical species.  He carried out postdoctoral research in the laboratories of Martin J. Stillman and James R. Bolton at the University of Western Ontario and Nagao Kobayashi at Tohoku University in Japan.  He was an Assistant Professor at Tohoku University, and currently works as an Associate Professor at Rhodes University in South Africa.  His research interests are focused on studying trends in the electronic structure and optical spectroscopy of porphyrinoids and BODIPY dyes to guide the rational design of novel compounds for use in biomedical applications.
Professor Abiy Yenesew, MRSC - Department of Chemistry, University of Nairobi, Kenya
Keynote Address: Rotenoids from Millettia Species – Structure, Stereochemistry and Biological Activity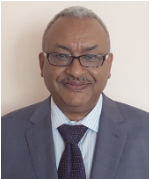 Brief bio
He is a Professor of Chemistry at the University of Nairobi, Kenya, with an extensive experience in teaching of Organic Chemistry, especially Organic Spectroscopy, and conducting research in the field of Natural Products Chemistry. For the last thirty years, He has been involved in the investigation of Eastern African plants for bioactive natural products. This has resulted in the publication of over 100 articles in peer reviewed journals He has also co-authored three books on medicinal plants of East Africa. He has served as reviewer to several international journals and examined over 30 PhD and MSc theses in Africa. He is subject editor of the journal Phytochemistry Letters, which is the official organ of the Phytochemical society of Europe. In his career as a natural products chemist, he is serving as Editorial Board member of the Journal of Natural Products and Journal of Ethnopharmacology. He has closely worked with national, regional and international scientists across the world. Through these collaborations, joint publications have been produced and also research grants and equipment's have been acquired. In terms of mentorship, he has co-supervised twenty PhD and thirty-seven MSc students (including some from Eastern African region) to completion. He has served as the Programme Officer (2006-2009), and later as the Assistant Secretary (2009-2013) of a regional organization called, the Natural Product Research Network for Eastern and Central Africa (NAPRECA). As one of the leaders of this network, He has been involved in organizing a number of symposia and workshops, and also coordinated postgraduate scholarships, which has promoted collaborative research in the region. In recognition of this he has been elected as a Fellow of the African Academy of Science and member of the Royal Society of Chemistry.